Mane and Tail Bags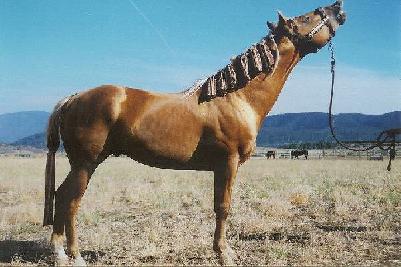 Handmade by "Mom" Washable Cotton, Velcro Fasteners
Click on the images to enlarge and use your browser "Back" button to return.
Set Includes 1 Tail Bag and 7 Mane Bags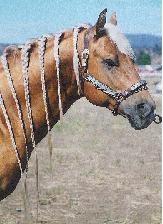 See the Results of Pony Pouches: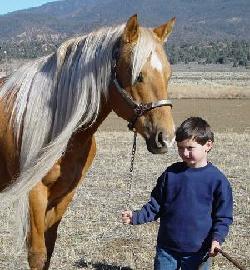 Solid Colors include Black, Red, Navy Blue, Burgundy, Forest Green, and Brown.
Patterns Are Always New And Changing (SeeSamples)

Simply Braid Your Horses Mane and Tail, Bag Each Individual Braid with
One Pony Pouch. From Underneath, Slip The Velcro Strap Through
The First Braid Twist At The Top
Of Your Horses Mane and Velcro The Strap Securely.
The Same Process Applies to Securing the Tail Bags.
Here Are Some Helpful Hints
Before braiding, always start with a very clean
and conditioned mane and tail.
On a weekly basis its a good idea to re-dampen
the mane and tail and put in a leave-in conditioner.
Try to make sure there are no areas your horse can rub his mane.
$20.00 per set
$4.95 Shipping and Handling
We accept Paypal ( www.paypal.com via email address as sunnie@frazmtn.com)
Or contact us for instructions on ordering through the mail at:
Sunnie@sunwolffarms.com or 1-661-245-9653